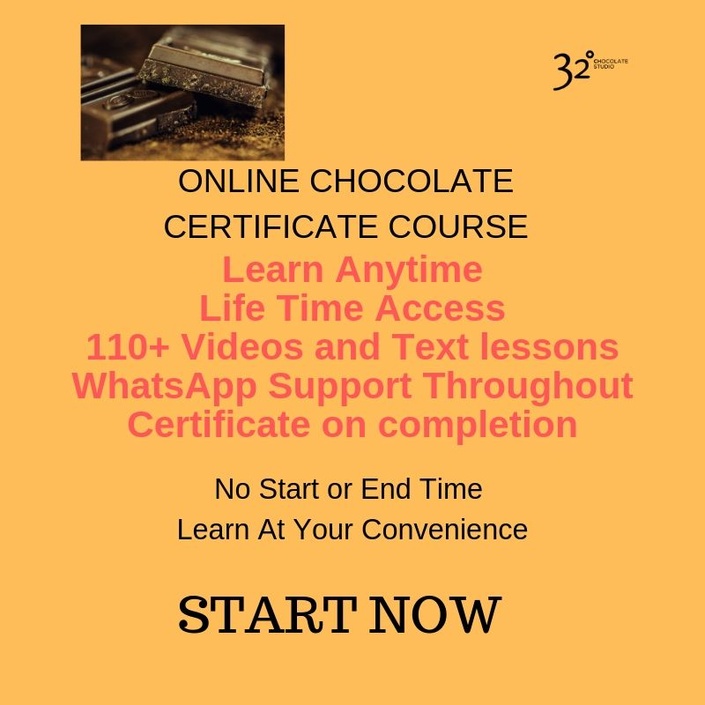 April 2019 Advance Intensive chocolate making course - Online
learn the science of chocolate making
Start date: 8th April 2019
End date: 17th May 2019
Features:
Online - Tutor led course (Tutor will remain with you for 6 weeks via whatsapp group)
6 weeks
Self study material.
Practicals and Exams (online)
You have to finish modules on deadlines.
Limited spaces.
Curriculum:
Key Areas covered in this course:
Tempering chocolate by seeding method
Tempering chocolate by tablering method
Understand crystallization of Ganaches
Understand importance of temperature and crystallization points in chocolate.
Understand different types of fats in chocolate and why it is important to stabilize fats.
Demonstration of good and bad tempering, avoiding surface shrinking
How to check consistency by touching and pouring method
Learn correct ways of chocolate melting, understanding effects of humidity, room temperature and refrigerator temperature
Dealing with common problems faced in humid and tropical climate – how to avoid sweating of chocolates
Learn to add flavours
Learn to colour chocolates
Understand various types of moulds and equipments
Learn mould filling methods
Learn bulk and cut methods for chocolate making [ time saving methods]
Learn filled chocolates in popular categories:
Pralines
Soft centers
Fruit pastes
Truffle
Bulk cut pieces
Liquid adding techniques
Part 2
Crystallization of ganaches by various methods, in depth
Understanding water activity and its effect on recipe shelf life
Moisture migration and fat migration discussion.
Role of sugar and humectants in chocolate.
Use of additives in chocolates and fillings. Enhancing shelf life.
Professional finishing techniques – right from making shells and locking them
Use of texture sheets and transfer sheets, correct procedures of their usage
Spraying techniques with colored cocoa (understanding proportions and temperatures for spray)
Moulding and enrobing techniques
Moulded and bulk production techniques
Learn unique infusions
Home and commercial production processes.
Some of the flavors:
Mandarin Pate de fruit
Mojito Ganache
Honey kissed Sesame Praline
Banana hazlenut cheesecake
Brownie caramel chocolate bar
Total 10 recipes in part 2
Your Instructor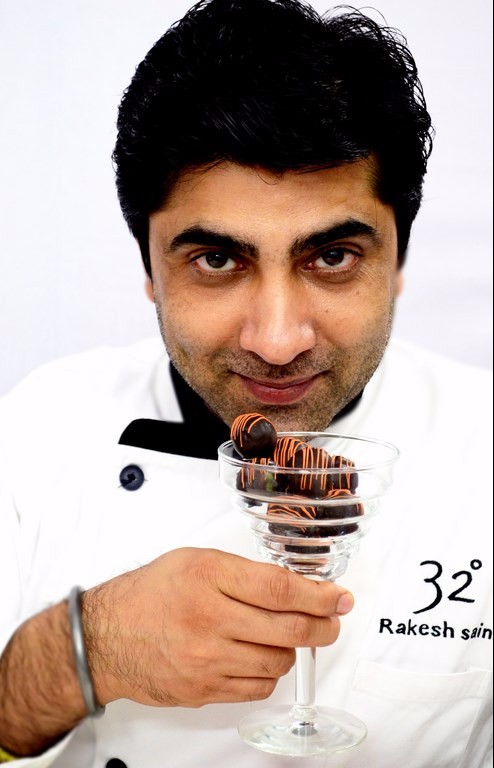 Rakesh Saini is internationally qualified chocolatier and sugar artist. He started his career in London and been in industry for last 19 years. He travels across India and abroad to teach. He has authored book on cupcake designs and writes for various magazines and journals. He is Majorly into consulting and teaching.

Certified Professional Chocolatier
Certified Master of Chocolate Flavors
Certified Bean to Bar Maker
Certified Sugar Artist
Course Curriculum
welcome
Available in days
days after you enroll
Your Course and Tutor
Available in days
days after you enroll
schedule of course
Available in days
days after you enroll
Frequently Asked Questions
When does the course start and finish?
As specified on dates above. It is a part time self-paced online course - however time bound deadlines will be there. Once finished lessons remain with you for lifetime.
How long do I have access to the course?
Discussions and practice sessions cease after the course end date. However you continue to have access to your text and videos notes. Which you can login anytime after the course and see. You will have email support from the tutor.
What if I get Stuck in course?
Tutor will remain with you for 6 weeks via Whatsapp Group
If the Materials are readily Available
Yes most of the materials are easily Available. Even if you are in remote area, things are available in online market spaces.